Te bezoeken erfgoed, Steden en dorpjes dans la Haute-Savoie
Toevoegen aan mijn lijst
Schrijf hier gratis uw toeristische punt in dans la Haute-Savoie in
Accommodatie in de buurt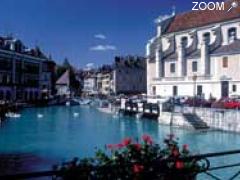 TVORG-2286
Bewerk de pagina
Disponibilités
Visite.org
74000 Annecy (Haute-Savoie)
Annecy is the capital of the Haute-Savoie, boasting the only heritage of its kind in France. Stroll along the flower-bedecked banks of the river Thiou to explore the painted walls of buildings constructed in the Middle Ages. Renaissance houses (Hôtels de Charmoisys, and Bagnorea), streets with arcades (rue Saint-Claire) which shelter art and craft galleries, a famous flea market (every last Saturday of the month) and last, but not least, the many bridges which may justify a certain resemblance to Venice or Bruges.
Le Palais de l'Ile, like a stone ship which has ploughed the water for 800 years, is today a museum but was once home to the local lord before becoming a prison. Perrière gate leads to the Château from where you have a view over the lake and alpine peaks. The Impérial, a restored luxury hotel houses the casino and brings a touch of the Riviera to the town.
Bekijk meer aanbiedingen ...
Schrijf hier gratis uw toeristische punt in dans la Haute-Savoie in