Heritage, visit, Cities and villages dans la Loire
Add to my travel notebook
Register your touristic spot dans la Loire it's free (in French)
See accommodation nearby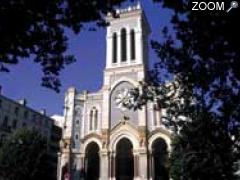 TVORG-2294
Update informations
Disponibilités
Visite.org
Ville
42000 Saint-Étienne (Loire)
Lassed as a " European City of Art", St-Etienne has restored the Renaissance facades of its St-Jacques quarter as well as the 19th C homes of rich haberdashers.
Its industrial past has left a legacy of two museums. The Musée d'Art et d'Industrie, with its exhibits from St-Etienne's rich economic past including bikes, haberdashery and weaponry, and the Musée de la Mine which is housed in the last working pit and which closed in 1976. Visitors are given the chance to plunge deep into the world of coal miners.
St-Etienne's Biennale du Design together with its Musée d'Art Moderne, maintain the city's heritage of art and skills.
Continue your visit with a trip to Firminy, a fine example of contemporary architecture by Le Corbusier and the largest model of urban coherence in Europe.

The city's cultural life is centred around two famous venues : the Esplanade-Opéra, France 's 4th biggest opera which organises several events, including the Massenet Festival, and the Comédie de St-Etienne theatre. Add to this a trip to see the legendary Geoffroy Guichard stadium, which hosts some of the most exciting sporting events. There are also two projects in the pipeline : the Cité du Design and the Zénith.
Register your touristic spot dans la Loire it's free (in French)