Gastronomy, Wine cellar, Distillery in Normandy
Cellars and Distillery

Pierce the secret of wines and of their development by visiting cellars and distillery. Leave on men's meeting loving their lands and their grapevines which will make you share their passion and their know-how.
Register your touristic spot in Normandy it's free (in French)
CALVADOS PIERRE HUET
Manoir La Brière des Fontaines
14340 Cambremer (Calvados)
Phone : 02 31 63 01 09
- Fax : 02 31 63 14 02
The HUET family, "producer" since 5 generations, acquired a great notoriety by marketing its precious beverage : the Calvados.
Located in the heart of the Pays d'Auge region, on the cider road, its ...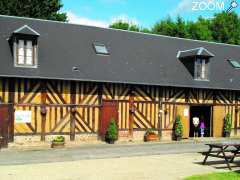 MIREILLE BOISSEL
370 ROUTE DE LA GARENNE
14130 Saint-André-d'Hébertot (Calvados)

Register your touristic spot in Normandy it's free (in French)