Accommodation, Bed and Breakfast dans la Sarthe
Add to my travel notebook
Register your touristic spot dans la Sarthe it's free (in French)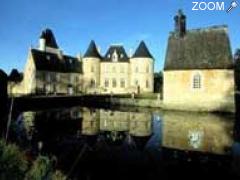 TVORG-400
Update informations





Disponibilités
Micol Tassan Din
Château de Vaulogé
72430 Fercé-sur-Sarthe (Sarthe)
Phone : 02 43 77 32 81
- Fax : 02 43 77 32 81

http://www.vauloge.com
In a romantic and enchanting setting rises
the château de Vaulogé, a deluxe b&b, surrounded by broad moats.
Built in the 15th century, protected by crenellated walls and a prison, the castle with its towers and its turrets was extended in the 19th century in the neo-gothic style.
The charm and refinement of its living rooms and bedrooms delight guests who wish calm and serenity.
Register your touristic spot dans la Sarthe it's free (in French)