Heritage, visit, Tourist information dans l'Aude
Add to my travel notebook
Register your touristic spot dans l'Aude it's free (in French)
See accommodation nearby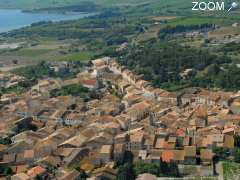 TVORG-818911
Update informations








Disponibilités
Patrick LECOCQ
37 bis avenue de la Mer
11480 La Palme (Aude)
Phone : 04 68 48 56 88
- Fax : 09 67 20 56 88

http://lapalme-tourisme.com

https://www.facebook.com/OfficeDeTourismeDeLaPalme/
La Palme is authentic village winemaker, respectful of its traditions and the environment. Located in the heart of the Natural Park of Narbonne, La Palme nestles between the vineyards and the garrigue, earth side and ponds and salt, sea side Its location is ideal and meets the desires of lovers of culture, sport and Nature. The badge is also a pond, natural heritage "Natura 2000", with its ancient salt and wild beach 2 km half between New Port Leucate and / La Franqui.
Over the seasons, La Palme will reveal its beauty, its colors and scents with ease for your delight.
Each season has its fun....

Accomodations : Bed and Breakfast (B&B), Self-catering House, Distinctive logis, summer rentals, and campsites (including one naturist campsite) offer accommodation to visitors. Contact La Palme Tourism Office : Phone number +33(0)4 68 48 56 88 – mail : contact@lapalme-tourisme.com - web site : http://www.lapalme-tourisme.com.

Activities to La Palme: The Mediterranean Sea and a beach "du Rouet" marine lake and garrigue - the cellars to taste the local wine WINE AOC Fitou, CORBIÈRES, MUSCAT - the Church of the thirteenth century, the Romanesque Chapel of the tenth century - The door to "La Barbacane", old drawbridge and the Clock Tower, old fortified gate and "Capitelles des carriers" are classified Historic Monuments. Ramparts - and other attractions ...
Sports activities: Sports activities: on marine pond or on the beach; Kitesurfing and Windsurfing - Paddle - Mountain Board - Fishing - Buggy - Quad - Tennis - Bowling alley - hiking and mountain biking - Stadium - Art Exhibition - All trade.

Mid-July discover the artistic and festive atmosphere of "Summer of Artists" and every second Friday of the month of August, attend the famous historical village festival "Las Claus of Paumo." Concerts and event "Fête du sel et du muscat" in salt flat "Salin".

ACCESS TO LA PALME :
Between Narbonne and Perpignan (30 km). Access highway A9: exit 39 (Sigean) or Exit 40 (Leucate) and coastal expressway (D 6009 and D175 or D 709)
By plane: Perpignan Rivesaltes Airport (34 km), Beziers (58 km)
By Train: New Port (8 km) or Leucate La Franqui (8 km)

Things to do in the area : Cloisters - Abbeys - Chapels - Churches and Cathar Castles - Caves - Canyoning, rafting, hydro, water sports, climbing - The African Reserve of Sigean - Terra Vinea of Portel des Corbières - Narbonne and Perpignan, cities "Art and History" – City of Carcassonne - Tautavel and Museum of Prehistory - the neighboring departments (the Pyrenees Orientales 66, 09 Ariège, Haute Garonne 31, 81 Tarn, Hérault 34) - Collioure - the Pyrenean mountains and ski resorts - Spain (Dali Museum in figueras, ...) - Leucate La Franqui (8 km), "the World Wind" celebrations "The Mediterranean" and "Sol y Fiesta. "

Our region offers some of the most wonderful trips.

Register your touristic spot dans l'Aude it's free (in French)