Gastronomy, Wine cellar, Distillery dans l'Aude
Add to my travel notebook
Register your touristic spot dans l'Aude it's free (in French)
See accommodation nearby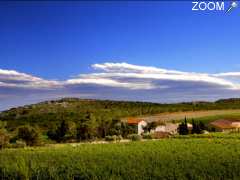 TVORG-797331
Update informations








Disponibilités
Château l'Hospitalet
Route de Narbonne Plage
11100 Narbonne (Aude)

http://www.chateau-hospitalet.com/fr/

https://www.facebook.com/winejazzlive
Located between sea and mountain, in the heart of the Massif of la Clape, this area of 1000 hectares of vines and garrigue acquired in 2002 by Gérard Bertrand, is the ideal place to understand the art of cultivating the vine and to assemble wines.
Our wine cellar for tasting and sale is the showcase of wines Gérard Bertrand, Ambassador of the wines from the South of the France. At the auction, more than 90 references: wine bios, property wines, natural sweet wines, wines of parcel...
Browse over 400 m2 of cellar, visit our cellars, taste the best wines Gérard Bertrand and introduce you to oenology. Group on reservation year-round visits.
Extend your experience of wines Gérard Bertrand by staying in our hotel or by discovering our restaurant: the Art of living.
Register your touristic spot dans l'Aude it's free (in French)