Gastronomy, Wine cellar, Distillery dans l'Hérault
Cellars and Distillery

Pierce the secret of wines and of their development by visiting cellars and distillery. Leave on men's meeting loving their lands and their grapevines which will make you share their passion and their know-how.
Register your touristic spot dans l'Hérault it's free (in French)
Fabrice Bonmarchand
Place Miolane
34270 Lauret (Hérault)
The Mas of the uncle is located at the foot of the Pic Saint Loup, Lauret, charming small village of 600 inhabitants, recognized for the quality of its terroir, our AOC Pic St Loup wines have a ...

Mme Karine BELOT
24 Boulevard des Arceaux
34000 Montpellier (Hérault)
Phone : 04 67 70 81 48
- Fax : 04 67 70 81 48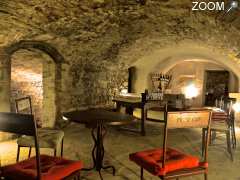 Jean-Benoit Cavalier
place de l'église
34270 Vacquières (Hérault)
As the 14th generation, Jean-Benoît Cavalier took over from his father in 1984 with a vision to craft quality, terroir-driven wines. Surrounded by the "GARRIGUE" (Languedoc's wonderfully wild, ...

Fabien Guinand
Avenue de Saint Christophe
34400 Saint-Christol (Hérault)

Mr Frédéric ARRIBAT
48 Avenue du 11 Novembre
34000 Montpellier (Hérault)

Register your touristic spot dans l'Hérault it's free (in French)