Archive of the Agenda of Franche Comté for 2010
2 events in the calendar 2010.
Antiques the Sunday 25 July 2010
christine LECOMTE
Mutigney (Jura)
Places de la Platière, de la Mairie, En partie Rue de Pesmes, de l'église, Chassey, St Souplet et ruelle de la Roue
Marché artisanal inscription jusqu'au 24/04/10 - 5 euros le m - Lieu Place de la Mairie + Ruelle de la Roue
Vide-grenier inscription jusqu'au 24/7/10. Possibilité le 25/7 selon dispo à partir de ...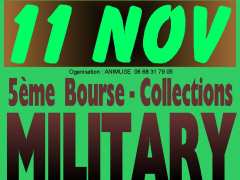 the Thursday 11 November 2010
Cécile BON
Lons-le-Saunier (Jura)
JURAPARC
BOURSE MILITARY
Armée – Police - Pompiers

L'occasion, au cours de cette cinquième édition organisée par Animuse, de nourrir une passion au gré des acquisition d'armes de collection, ...

Register your event in the Agenda, it's free (in French)