Gastronomy, Farms restaurants en Dordogne
Farms-Inns

It is in any simplicity that you will be welcomed in the farms-inns. Offered meals come from traditional recipes cooked with products in direct provenance of working.
Register your touristic spot en Dordogne it's free (in French)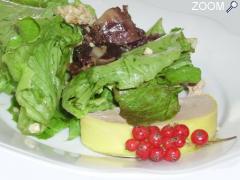 Ferme de la Maurinie
La Maurinie
24330 Eyliac (Dordogne)
Phone : 05 53 07 57 18
- Fax : 05 53 04 52 80
In the heart of Périgord, near to Périgueux, the farm of Maurinie
accomodates you all the year in firm inn, rooms and table of hosts,
camp-site, sale of farm preserves, training courses of fatty ...

Register your touristic spot en Dordogne it's free (in French)