Art and craft, Art, Craft and Gallery dans le Loir-et-Cher
Arts and Crafts

Meeting with fascinated craftsmen and artists talented height. They express their know-how through unique works according to their imagination and to their inspiration. For the public, the result is always a pleasant surprise... Only for the pleasure of your eyes!
Register your touristic spot dans le Loir-et-Cher it's free (in French)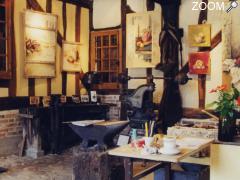 Stéphanie Soutif
4 place Robert Mottu
41600 Chaumont-sur-Tharonne (Loir-et-Cher)
La Forge, ancien atelier de maréchalerie est le lieu de créativité de stéphanie Soutif (Fanny), artiste peintre.
Les visites et les stages de ferronnerie peuvent être organisés sur ...

Register your touristic spot dans le Loir-et-Cher it's free (in French)